Take a tour with Access Hollywood / Daily at the Sparkl Palace with interior designer and CEO of Sparkl Couture, Gabrielle Hall. Explore the magical fairy, mermaid and unicorn inspired decor with a full fairy princess living room. Holographic piano, giant Miley Cyrus style recking ball chair. In the next room explore the Mermaid Kitchen that took over 100 hours to install. Then walk into the pink design room - where you can see the new summer "Caught in a Mermoment Collection" that took over 6 years to. finally put out into the world with the last two years of heavy design perfection. Lastly get an exclusive look at our new Travel Collection debuting this summer.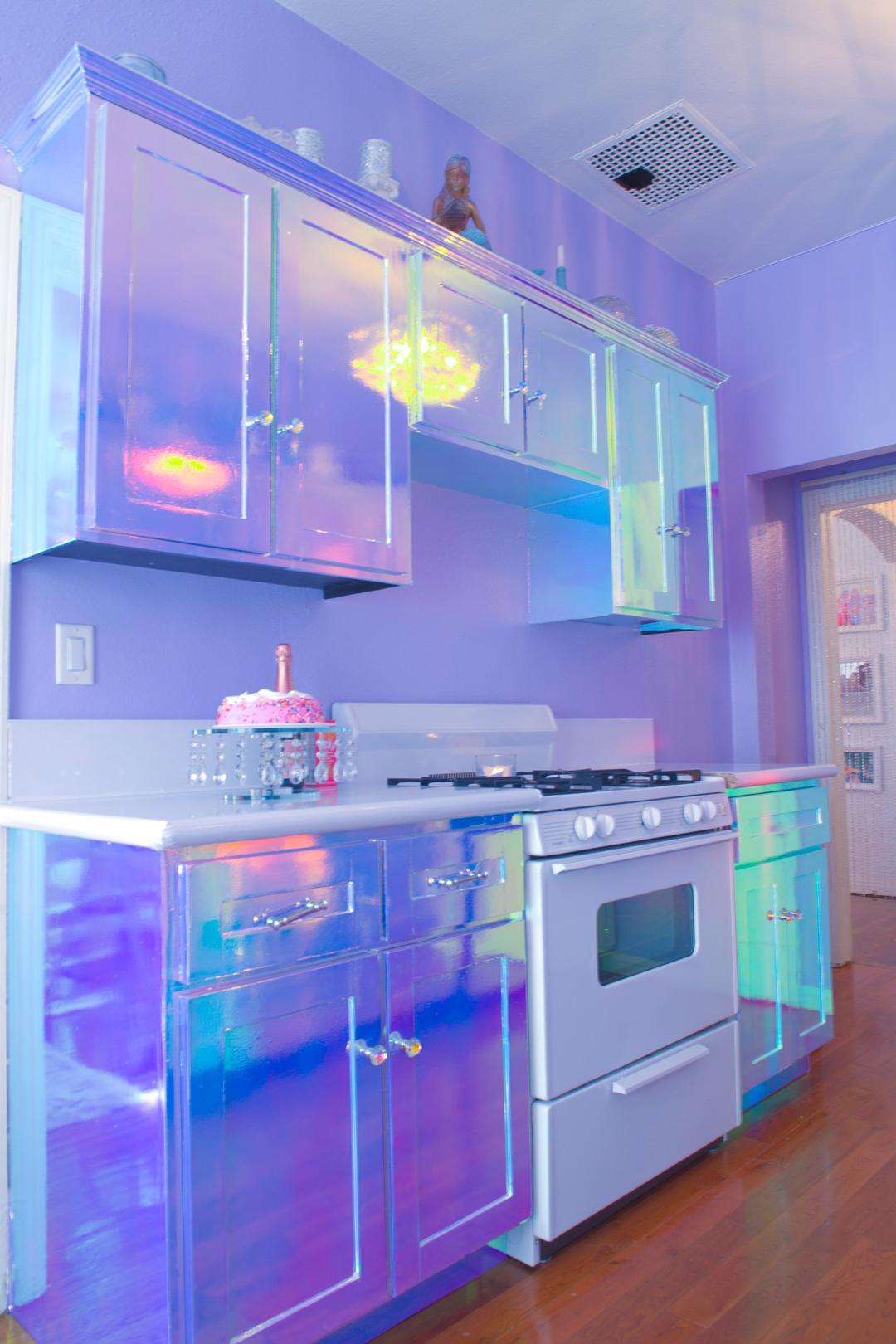 The magical "Sparkl Palace" 1700 sq ft of pure artistic fairy fantasy created by artists Gabi Iwalani. The fist room is fully stocked with three vintage double door arched windows with access to the outside patio. The patio is white with a pink cement floor. This room features an elegant living room with a beautiful couch, two princess chairs, and a Disco Ball floating chair. Also featured in this room in a Holographic Piano adorn with an entire sky of Disco Balls. In the center of the room is a beautiful faux fire place and gorgeous crystal chandelier above. The other side of the room featured light up pink "BEAUTY" letter and a white bar. The second room features our iconic holographic kitchen and lilac mermaid dreamy dinning area. All of the cabinet are adorn with iridescent crystal knobs and luxurious sparkly hues. There are to crystal prism chandeliers that reflect mini rainbows all over the perfect lilac walls.
The third room is our Pink & Pretty Sparkl design room. This is an extra add on room that is not included in the rental price unless requested. It features a PGM dress form, a wall of threads and materials, a mermaid scale cutting table, beautiful art capture from Sparkl Fairy Couture shoots and so much more. There is also full length mirrors as well a French crystal chandelier centering the room. This is a room where Sparkl Couture is made and we actually have the option for wardrobe add on's for an additional charge. Usually our full catalog of clothing and footwear is available for rent.
The fourth room is our minty mermaid inspired bathroom. Adorn with a one of a kind mermaid scale shower curtain. Luxurious pastel towels and gorgeous art. The ceiling features our custom Butterfly chandelier that has unique LED color options. This is available for use for all tier bookings. The fifth room is our iconic "G Sparkl Sky is the Limit Princess Room" featuring an a baby blue room with a white ultra plush round bed. Over that is the blue iridescent and crystal canopy that drapes over the bed. On the side is a Holographic vanity and matching mirror that reflect back to a one of a kind white and hologram wardrobe. The floors are dressed in an ultra white carpet with baby blue accent carpets on the other side. On the far side of the room there is a mermaid inspired desk with a baby blue plush shell chair. Last but not least keeping the room extra cozy are the iridescent blue curtains with crystals drips. This room is an extra add on room and is not apart of the usual booking. If you deicide to book this room an additional charge will be applied. (No Shoes are allowed in this room)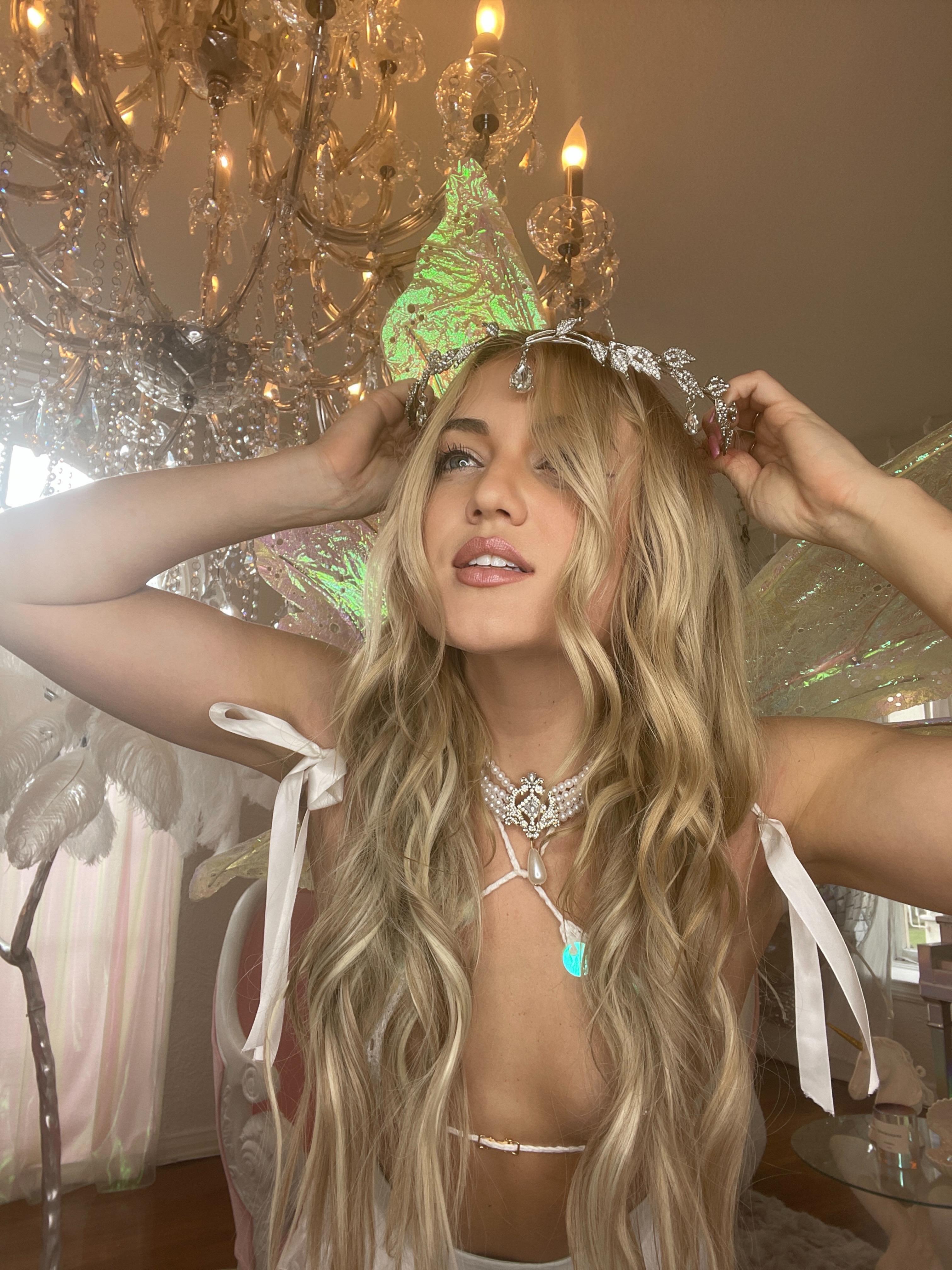 " I created the Sparkl Palace to give life to the Sparkl Fairy Couture lifestyle label I created back in 2014. My dream was always to create interiors designs that felt out of this universe. Giving my fairies, mermaids and unicorns a special place to come and feel apart of the magic. A place where they can create, be inspired and dive into a new world, the future of fashion interiors and experience. Welcome to the Sparkl Palace & the Fairy Couture lifestyle!"
Gabrielle Iwalani Hall - CEO & Designer of Sparkl, LLC